"No one here thinks that it will be easy" warned Federal Reserve Chairman Jerome Powell on Thursday as he discussed the notion of a soft landing when it comes to the US economy. He was confirmed in the Senate (80-19 vote) and will continue to lead the central bank's campaign in fighting public enemy number one, inflation. In his comments, he reemphasized the Fed's goal to bring back price stability while avoiding recession and keeping the labor market strong. This challenging task has been achieved rarely in prior cycles, and will be especially so after a negative 1.4% print on Q1 GDP after only two live meetings. Given current market readings, the Fed is expected to continue hiking rates by 50bps at the next two meetings (June and July).
What about the financial markets? No mention from Powell as they continue to take a beating this week and all of this year. Is the Fed Put really dead? As of Friday morning, the three major indices are lower with NASDAQ leading the drop down 3.75% for the week. For those keeping tally, the S&P is now off -16% YTD and NASDAQ -25%. Looking at the bond market, yields are lower across the curve from a week ago. UST 10YR yields are now trading around 2.92% (down from as an intraday high of 3.20% last week). On the short end, two-year yields continue to bounce around 2.50 to 2.75% as the market prices in the movement of the Fed Funds rate. On the consumer lending side, the 30yr mortgage continues to edge higher with a benchmark rate of 5.64% further stressing the impact of rising rates on housing affordability.
On Wednesday this week we saw the key release for prices from the BLS, the Consumer Price Index (CPI) report. April's readings fell for the first time in eight months potentially beginning the start of a sustained decline. However, it appeared that most analyst expectations were for a further decline than actual potentially giving the Fed even more resolve to be hawkish. The headline reading which includes food and energy was 8.3% however economist was expecting a decline of 8.1%. The core figure (which strips food/energy) lowered as well to a 6.2%. The calculation's base effects will continue to help however the month over month 0.6% is troubling indicating there could be signs of domestically generated inflation remaining strong. Also related to prices, PPI was released and it did show a moderation as well from 11.5% last month 11.0%.
Next week brings a decent number of economic releases. On Monday the Empire State Manufacturing index will be released giving us insight on regional activity in the Northeast. Tuesday will be data heavy with releases on retail sales, industrial production and capacity utilization. Wednesday will see new building permits housing starts which give more insight to the impact of higher mortgage rates. Thursday will see the weekly jobless claims along with existing home sales.
Headline and Core CPI fell to 8.3% and 6.2% respectively in April. Energy prices posted the biggest drop while service and food inflation remain well above pre-pandemic levels. The drop in energy prices may be short lived as gasoline hit a record high of $4.40 in May 11th.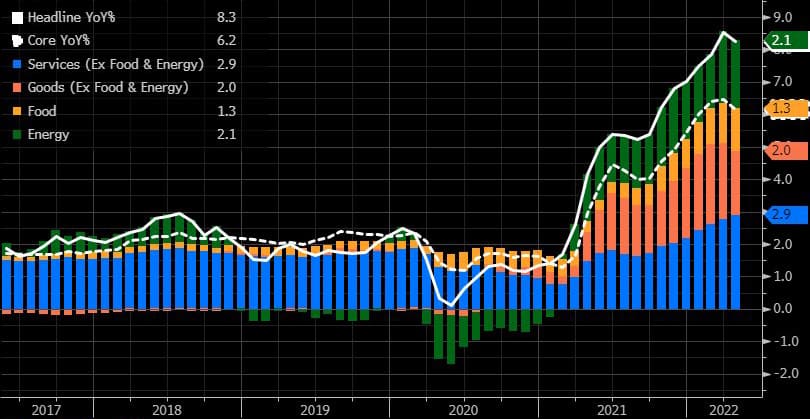 The Baker Group is one of the nation's largest independently owned securities firms specializing in investment portfolio management for community financial institutions.
Since 1979, we've helped our clients improve decision-making, manage interest rate risk, and maximize investment portfolio performance. Our proven approach of total resource integration utilizes software and products developed by Baker's Software Solutions* combined with the firm's investment experience and advice.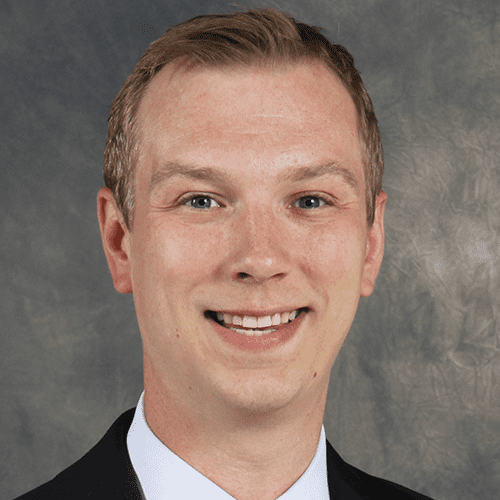 Author
Matt Harris, CFA
Senior Vice President
Assistant Director of Asset/Liability Management
The Baker Group LP
MHarris@GoBaker.com
800.937.2257
*The Baker Group LP is the sole authorized distributor for the products and services developed and provided by The Baker Group Software Solutions, Inc.
INTENDED FOR USE BY INSTITUTIONAL INVESTORS ONLY. Any data provided herein is for informational purposes only and is intended solely for the private use of the reader. Although information contained herein is believed to be from reliable sources, The Baker Group LP does not guarantee its completeness or accuracy. Opinions constitute our judgment and are subject to change without notice. The instruments and strategies discussed here may fluctuate in price or value and may not be suitable for all investors; any doubt should be discussed with a Baker representative. Past performance is not indicative of future results. Changes in rates may have an adverse effect on the value of investments. This material is not intended as an offer or solicitation for the purchase or sale of any financial instruments.