The risk profile of your investment portfolio should reflect the goals of your bank. The Advanced Portfolio Monitor (APM®)* helps you manage that risk and achieve those goals. APM allows you to manage the portfolio and comply with regulations easily. Plus, it is compatible with The Baker Group's other Software Solutions, including IRRM®: Interest Rate Risk Monitor, DLM: Dynamic Liquidity Monitor, and BBA: Baker Bond Accounting®.
Sample Reports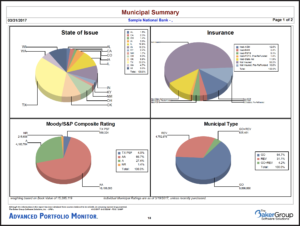 Click here to view a sample set of reports.
APM analyzes and graphically displays information for all types of bank-eligible fixed income securities, including municipal bonds, mortgage-backed securities, CMOs, and callable agencies using:
Portfolio Segmentation and Allocation Analysis
Effective Duration and Convexity Measurement
Risk/Return Profiles
Projected Cash Flow Analysis
Average Life Sensitivity
Stress Analysis: independent market valuation, analysis, and stress testing performed on every security in your portfolio
APM graphically displays your portfolio's cash flow and interest rate risk characteristics, along with monitoring the impact of changing interest rates monthly and annually. This provides you the analytical information needed to manage your portfolio.
Information is downloaded from the BBA system, and APM reports are generated and delivered promptly to your bank electronically.
*The Baker Group, LP is the sole authorized distributor for the products and services developed and provided by The Baker Group Software Solutions, Inc.
1601 NW Expressway, 21st Floor
Oklahoma City, OK 73118
Phone: 405.415.7200
Toll-Free: 800.937.2257
Fax: 405.415.7392