Baker Bond Accounting® (BBA)* provides accurate, thorough, and timely accounting reports with the power and flexibility to satisfy the needs of simple or complex portfolios.
BBA saves you time, prepares all necessary accounting entries, and presents the results in a series of concise reports designed specifically for CFOs of community-based financial institutions. The data flows seamlessly into our interest rate risk system, the IRRM®.
Sample Reports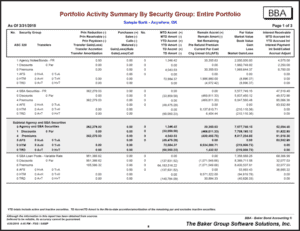 Click here to view a sample set of reports.
Click here to view a sample BBA Excel Packet.
Executive Summary Reports
Clear, concise reports for presentation to the investment committee or the board of directors.
ASC 820 Inventory Summary
Maturity Distribution Summary
Portfolio Transactions
Regulatory Reports
Complete call report schedules can save days of work.
Schedule RC-B Securities
Schedule RC-K: Quarterly Averages
Schedule RCR: Risk-Based Capital
Accounting Reports
The necessary accounting entries for the bank's general ledger systems as well as auditing and back office functions.
Accrued Interest Reconciliation
Book Value Amortization and Accretion Reconciliation
General Ledger Worksheet
Payment Reconciliation
Next Month Maturity and Coupon Schedule
Year-to-Date Income Summary
ASC 820 Unrealized Gains/Losses Adjustments and Transfer
Management Reports
A variety of reports to aid the investment officer with the day-to-day management of the portfolio.
Maturity Distribution by Year of Maturity
Maturities by Month
Cash Flow Reconciliation
Securities Callable Within 90 Days
Pledge Report by Security and Maturity
Unpledged Report
Structured Note Listing
Municipal Summary by Rating
Municipal Summary by TEFRA Status
*The Baker Group, LP is the sole authorized distributor for the products and services developed and provided by The Baker Group Software Solutions, Inc.
1601 NW Expressway, 21st Floor
Oklahoma City, OK 73118
Phone: 405.415.7200
Toll-Free: 800.937.2257
Fax: 405.415.7392