The mid-week holiday brought a short trading week, but that didn't prevent market volatility from making an appearance. The yield on the 10yr Treasury is up +19bps since the start of the week as markets are filtering through economic data to predict the Fed's next move.
The big news of the week is the jobs numbers as both the ADP and BLS released employment numbers this week. On Thursday, the ADP released an eye-popping June number that showed private payrolls increased by 497k compared to an estimated 225k. Hiring improved across the spectrum, including everything from construction, leisure, and hospitality. Continuing Claims also came in slightly lower than expected at 1,720k compared to an estimated 1,737k.
Alternatively, the BLS released its "less exciting" change in nonfarm payrolls report on Friday morning which showed jobs gains of 209k compared to an estimated 230k while the unemployment rate remained steady at 3.6%. Mortgage applications were down -4.4% for the week ending on June 30th as the average rate on a 30yr mortgage ticked up to 6.85% from 6.75%.
All in all, the market believes that this week's news should give the "data-dependent" Fed enough ammo to continue their rate hiking campaign when they meet later this month. As it stands now, Fed Funds Futures are currently projecting a 91% chance of a 25bp rate hike at the July meeting.
Looking ahead to next week, there will be plenty of news to keep the market's attention. We'll get a look at June's inflation numbers with the CPI report coming out on Wednesday and the PPI report on Thursday. The University of Michigan will also be releasing their Consumer Sentiment report for the month on Friday.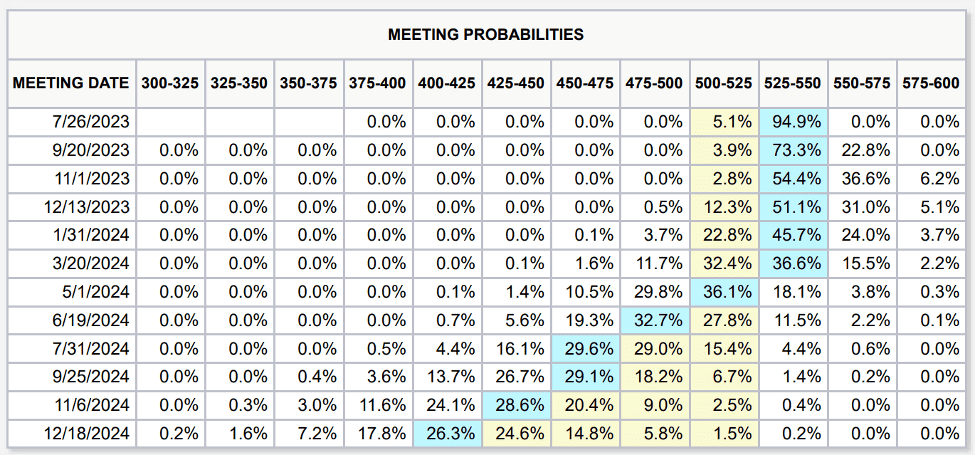 The Baker Group is one of the nation's largest independently owned securities firms specializing in investment portfolio management for community financial institutions.
Since 1979, we've helped our clients improve decision-making, manage interest rate risk, and maximize investment portfolio performance. Our proven approach of total resource integration utilizes software and products developed by Baker's Software Solutions* combined with the firm's investment experience and advice.
*The Baker Group LP is the sole authorized distributor for the products and services developed and provided by The Baker Group Software Solutions, Inc.
INTENDED FOR USE BY INSTITUTIONAL INVESTORS ONLY. Any data provided herein is for informational purposes only and is intended solely for the private use of the reader. Although information contained herein is believed to be from reliable sources, The Baker Group LP does not guarantee its completeness or accuracy. Opinions constitute our judgment and are subject to change without notice. The instruments and strategies discussed here may fluctuate in price or value and may not be suitable for all investors; any doubt should be discussed with a Baker representative. Past performance is not indicative of future results. Changes in rates may have an adverse effect on the value of investments. This material is not intended as an offer or solicitation for the purchase or sale of any financial instruments.