Market volatility continues this week as risks increase that the Israeli-Hamas war could spill outside of Gaza. The Treasury Curve is exhibiting a "Bear Steepener" shift with yields on the long-end of the curve moving up quicker than the short-end. Yields on the 10yr Treasury are up +23bps since the beginning of the week.
Multiple Fed leaders spoke this week, including Fed Chairman Powell who said that the Federal Reserve will proceed carefully with rate hikes, while also citing economic data that current policy isn't too tight. This leaves the door open for potential rate hikes in the future while also suggesting that the Fed will maintain current levels at their next meeting. The CME FedWatch Tool that analyzes market expectations for Fed policy has almost entirely ruled out another rate hike for the November meeting with a 98.2% probability that current rates will be maintained. Looking at current Fed Funds Futures, traders are projecting the first rate cut to come at the July 2024 meeting.
This week's economic releases were mostly better than expected. The Empire Manufacturing Index which estimates general business conditions for the state of New York came in at -4.6% vs -6.0% expected. Retail Sales were also stronger than expected at 0.7% vs 0.3% expected. Purchases rose in 8 out of 13 categories that are measured by the index with much of the gains coming from Automotive, Restaurant, and Personal Care services. Appliances, Electronics, and Home Furnishing categories were down for the month. Higher mortgage rates are continuing to have an impact on the housing market with MBA Mortgage Applications down -6.9% vs 0.6% for the week prior while Housing starts also came in lower than expected. Initial Jobless claims fall to the lowest level since January coming in at 198,000 which was lower than expected as unemployment remains sticky. However, the continuing jobless claims number increased which could suggest that it's taking longer for unemployed workers to find jobs in a sign that the labor market could be easing. The Fed will continue to monitor employment levels as a key data point in determining Fed policy. Rounding out the economic data, the Leading Economic Index came out for the month of September showing that leading indicators fell by -0.7% vs -0.4% expected. Going back to at least 1965, the LEI index has never been as low as it is currently without the economy either being in a recession or starting a recession shortly thereafter. It will be interesting to monitor as this week's data has offered a mixed bag of results.
On the calendar for next week, we'll get a look at Q3 GDP, Core PCE, Personal Income/Spending, and the University of Michigan's Consumer Sentiment report as some of the higher profile economic releases.
Have a great weekend!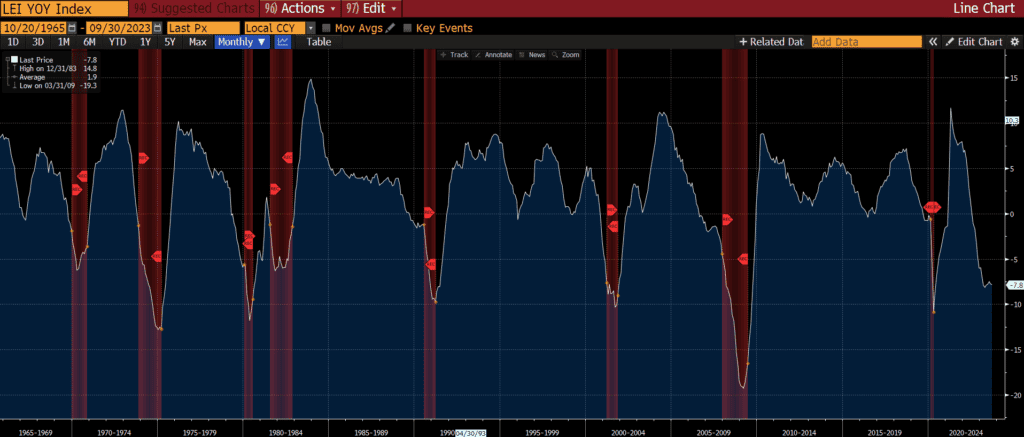 The Baker Group is one of the nation's largest independently owned securities firms specializing in investment portfolio management for community financial institutions.
Since 1979, we've helped our clients improve decision-making, manage interest rate risk, and maximize investment portfolio performance. Our proven approach of total resource integration utilizes software and products developed by Baker's Software Solutions* combined with the firm's investment experience and advice.
*The Baker Group LP is the sole authorized distributor for the products and services developed and provided by The Baker Group Software Solutions, Inc.
INTENDED FOR USE BY INSTITUTIONAL INVESTORS ONLY. Any data provided herein is for informational purposes only and is intended solely for the private use of the reader. Although information contained herein is believed to be from reliable sources, The Baker Group LP does not guarantee its completeness or accuracy. Opinions constitute our judgment and are subject to change without notice. The instruments and strategies discussed here may fluctuate in price or value and may not be suitable for all investors; any doubt should be discussed with a Baker representative. Past performance is not indicative of future results. Changes in rates may have an adverse effect on the value of investments. This material is not intended as an offer or solicitation for the purchase or sale of any financial instruments.