Halloween decorations were not the only sight haunting the halls of investors' offices this week. The sight of 10-year Treasury yields topping 5% for the first time in 16 years early Monday spooked some major bond buyers right out of their shorts (literally and figuratively)! Billionaire investor Bill Ackman, along with other major investors, covered their previous bets against Treasuries, pointing to expectations that U.S. economic data would deteriorate from here and that the war in Gaza would draw more investor dollars into U.S. government bonds.
Monday's bond market bounce saw U.S. Treasury yields close nearly 20bps below their early peak at 5.02% but the gyrations were not over from there. News from Gaza along with strong economic data resumed their pressure on long-term bonds and brought the 10-year Treasury yields back to within a whisper of the 5% peak reached early in the week but reversed again. At the time of this writing, we look to end the week down from last week. The 5-year Treasury rate is currently down 7.5bps from last Friday's close at 4.785% and the 10-year is down 6bps to 4.85%.
In terms of data, we saw impressive strength in the 3Q GDP number, reflecting growth on the back of resilient consumer spending. GDP rose 4.9% in the third quarter, beating expectations of a 4.7% increase. Looking ahead, however, the numbers may not be quite as rosy for this quarter as student loan payments resume and the war in Gaza brings uncertainty into the market. Exports also soared by 6.2%, rebounding from a negative position last quarter. Initial jobless claims came in at 210,000, slightly above estimates of 207,000.
Housing data was a true Tale of Two Home Sales story with New Home Sales unexpectedly surging 12.3%, well beyond estimates of +0.7%. This is the highest level of New Home Sales in 20 months, as homebuilders work to combat high mortgage rates by offering rate buy downs and other financial incentives in effort to lure buyers. Pending Home Sales, on the other hand, told a much different story as they depend on homeowners listing their homes. Pending Sales rose slightly, up 1.1% MoM, but that was from a starting point when sales matched the lowest level in data back to 2001.
The most widely watched set of economic data for the week was this morning's release of the BEA's Personal Income and Outlays survey, which gives us Personal Income and Spending data as well as the Fed's preferred inflation indicator, Personal Consumption Expenditures (PCE). The survey showed consumers were living beyond their means in September, with personal spending growth far outpacing income growth. Personal Spending rose more than expected, up 0.7% vs. 0.5% survey, while Personal Income rose less than expected, up 0.3% vs. 0.4% survey. As a result, the personal savings rate fell to its lowest level since December 2022. Spending momentum is expected to fall in the fourth quarter as student loan payments resume, excess savings diminish, and the labor market loses some steam. PCE printed in line with expectations at 3.4% YoY.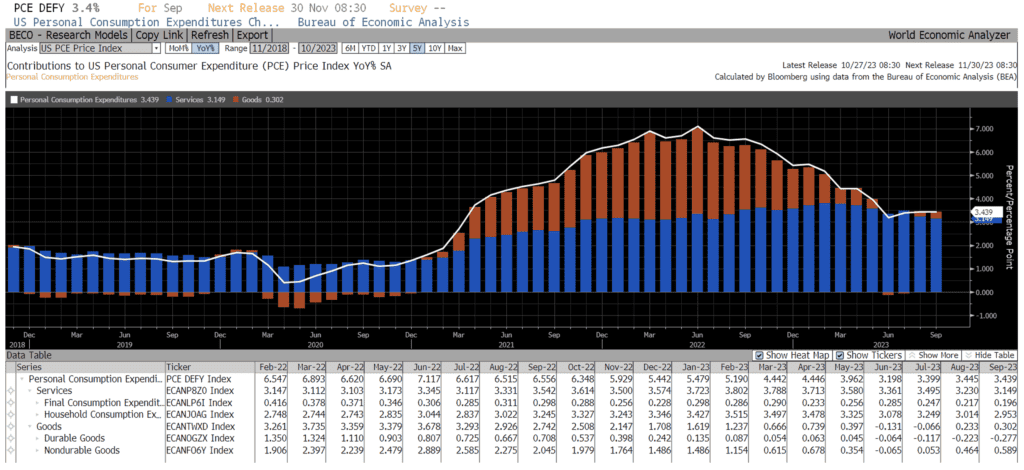 Next week there is plenty on the docket to give markets direction. We will get the FOMC Rate Decision as well as the all-important press conference that follows. It is widely expected the Fed will hold rates steady at their meeting next week. Futures markets are also pricing in a near 80% probability that they hold rates steady in December as well. Next week is also employment week, with ADP, JOLTS, nonfarm payrolls, unemployment rate, wage growth, and more all being released in the first three days of November.
The Baker Group is one of the nation's largest independently owned securities firms specializing in investment portfolio management for community financial institutions.
Since 1979, we've helped our clients improve decision-making, manage interest rate risk, and maximize investment portfolio performance. Our proven approach of total resource integration utilizes software and products developed by Baker's Software Solutions* combined with the firm's investment experience and advice.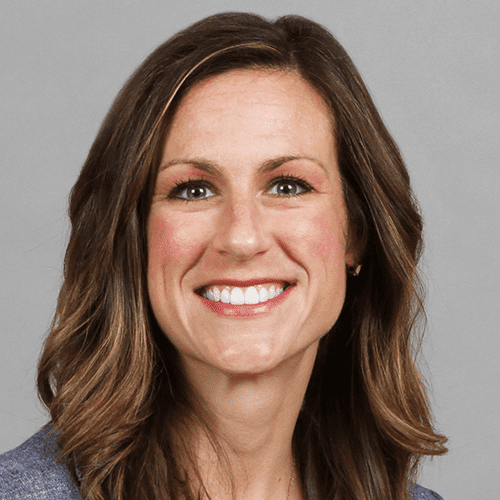 *The Baker Group LP is the sole authorized distributor for the products and services developed and provided by The Baker Group Software Solutions, Inc.
INTENDED FOR USE BY INSTITUTIONAL INVESTORS ONLY. Any data provided herein is for informational purposes only and is intended solely for the private use of the reader. Although information contained herein is believed to be from reliable sources, The Baker Group LP does not guarantee its completeness or accuracy. Opinions constitute our judgment and are subject to change without notice. The instruments and strategies discussed here may fluctuate in price or value and may not be suitable for all investors; any doubt should be discussed with a Baker representative. Past performance is not indicative of future results. Changes in rates may have an adverse effect on the value of investments. This material is not intended as an offer or solicitation for the purchase or sale of any financial instruments.