This week showed a continuation of recent trends, with one exception. Economic reports continued to come in weaker than expected as the impact of higher rates began to spread through the economy. Inflation and inflation expectations continued to fall as the most severe effects of the pandemic continued to dissipate. Bond yields continued to fall from their May 6th peak as markets are beginning to believe the Fed may not have to raise rates as much as originally anticipated. But the stock market reversed its recent trend with major indices rising for the first week in 10 in what could be the beginning of a bottoming process…or simply a bear market relief rally.
On Tuesday, the Census Bureau reported that New Home Sales plunged 17% (est = -2%) to the lowest level since April 2020 and the inventory of homes for sale surged to the highest level since May 2008, representing 9 months of supply at the current sales rate. This was the first report to show true weakness in the housing market and may be a sign of what's to come as the impact of rising mortgage rates and record prices begin to weigh on potential buyers. And Thursday saw Pending Home sales fall for the sixth month in a row (down 11.6% year-over-year) suggesting the pain in housing will continue, at least in the near term.
But it was not all bad news for the economy as the BEA reported Friday that Personal Spending rose 0.9% in April and Income rose 0.4%, pushing the savings rate down to the lowest level since 2008 (4.4%). The same report showed the Fed's preferred measure of inflation, Core PCE, slowed for the second month in a row to 4.9%. While that is still well above the Fed's target of 2%, the 2-month drop was a welcome sign for markets. 10-year Treasury yields fell to 2.72% on the news and are now down 40bp since their recent peak on May 6.
Next week we'll get reports on house prices, durable goods orders and the all-important May jobs report.
Fed's Preferred Measure of Inflation – Core PCE – Year-Over-Year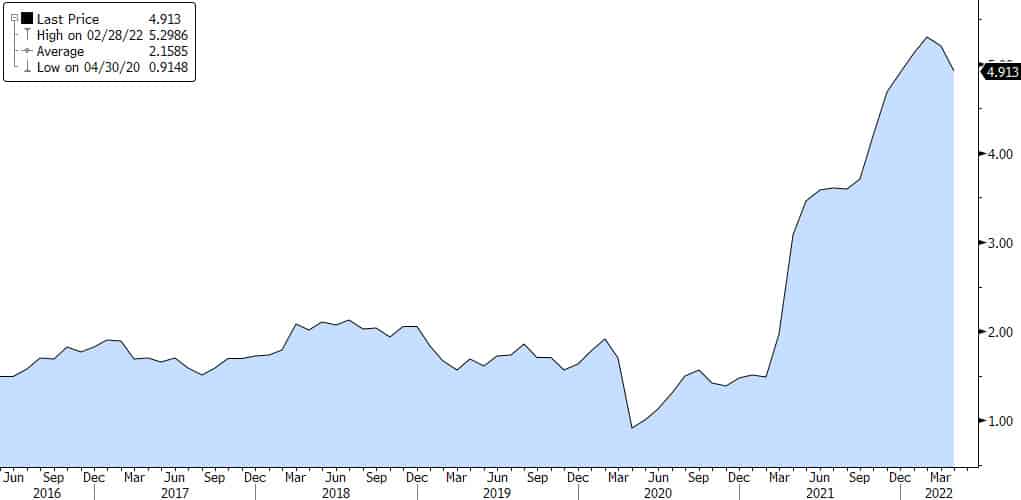 The Baker Group is one of the nation's largest independently owned securities firms specializing in investment portfolio management for community financial institutions.
Since 1979, we've helped our clients improve decision-making, manage interest rate risk, and maximize investment portfolio performance. Our proven approach of total resource integration utilizes software and products developed by Baker's Software Solutions* combined with the firm's investment experience and advice.
*The Baker Group LP is the sole authorized distributor for the products and services developed and provided by The Baker Group Software Solutions, Inc.
INTENDED FOR USE BY INSTITUTIONAL INVESTORS ONLY. Any data provided herein is for informational purposes only and is intended solely for the private use of the reader. Although information contained herein is believed to be from reliable sources, The Baker Group LP does not guarantee its completeness or accuracy. Opinions constitute our judgment and are subject to change without notice. The instruments and strategies discussed here may fluctuate in price or value and may not be suitable for all investors; any doubt should be discussed with a Baker representative. Past performance is not indicative of future results. Changes in rates may have an adverse effect on the value of investments. This material is not intended as an offer or solicitation for the purchase or sale of any financial instruments.