The month of July has almost come to a close and will go down as the hottest month on record. With no end to the excessive heat in sight for many of us, we turn our attention to the cooling inflation climate for solace. This morning we learned that the Fed's preferred measure of inflation, the Personal Consumption Expenditures Price Index (PCE), rose +0.2% in June and +3.0% from a year ago. This is marks the lowest PCE inflation reading since March 2021 and represents a nearly 60% drop from its 7% peak in June 2022.
As a reminder, the Fed's goal is for inflation to average 2.0% over time so a drop to 3.0% in June should certainly give them some confidence that higher interest rates are having their desired effect. It should also give them plenty of reason to consider ending their tightening campaign, especially as higher interest rates take time to work their way through the economy. There is a case to be made that further hikes from here could overshoot the 2% target by the time their full effect is felt.
Core PCE, which excludes food and energy, rose less than expected, up +0.2% for the month (vs. +0.3% estimate) and +4.1% annually (vs. +4.2% estimate). Core inflation is a better indicator of the long run trend for inflation so the sharper than expected drop in June's Core PCE was welcome news for markets. Bond yields fell on the news, with the 2yr and 10yr both down ~5bps to 4.89% and 3.96% at the time of this writing. Markets are now pricing in a nearly 73% chance that there will be no more hikes this year.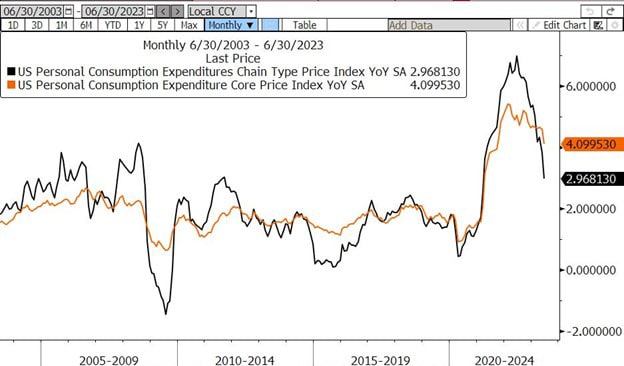 Also this week, we got another quarter-point interest rate hike in the Fed Funds target range to 5.25%-5.50%. Markets moved very little on the news as the hike was widely expected and the FOMC made little change to its policy statement. In the press conference, Fed Chair Powell remained vague about whether or not the committee was expecting to hike again at their next meeting in September. This will a longer waiting period between FOMC meetings than the typical six-week interlude as the September meeting is not for eight more weeks. This means the committee will get two more CPI and employment reports rather than one so the next move will truly hang on the outcome of those reports.
The one surprise of the week was an unexpected acceleration of U.S. gross domestic product in the second quarter, which came in at +2.4% vs. +1.8% expected. Price pressures cooled but the economy was buoyed by resilient customer spending and robust business investment in the second quarter.
As the calendar flips to August next week, we will turn our attention to employment stats that come out the first week of every month. Expectations are for the handful of labor reports we get next week to be fairly flat vs. last month so any unexpected swings could draw attention and spin off some volatility in the markets.
The Baker Group is one of the nation's largest independently owned securities firms specializing in investment portfolio management for community financial institutions.
Since 1979, we've helped our clients improve decision-making, manage interest rate risk, and maximize investment portfolio performance. Our proven approach of total resource integration utilizes software and products developed by Baker's Software Solutions* combined with the firm's investment experience and advice.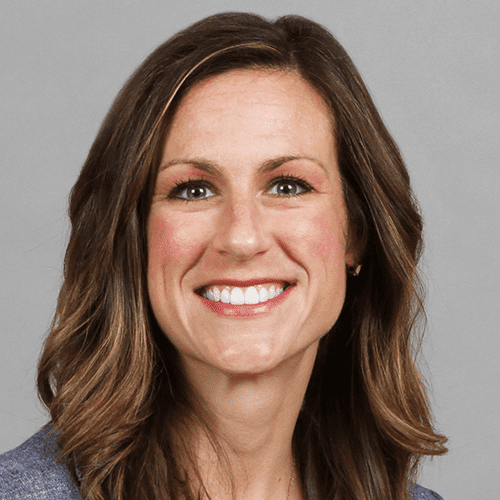 *The Baker Group LP is the sole authorized distributor for the products and services developed and provided by The Baker Group Software Solutions, Inc.
INTENDED FOR USE BY INSTITUTIONAL INVESTORS ONLY. Any data provided herein is for informational purposes only and is intended solely for the private use of the reader. Although information contained herein is believed to be from reliable sources, The Baker Group LP does not guarantee its completeness or accuracy. Opinions constitute our judgment and are subject to change without notice. The instruments and strategies discussed here may fluctuate in price or value and may not be suitable for all investors; any doubt should be discussed with a Baker representative. Past performance is not indicative of future results. Changes in rates may have an adverse effect on the value of investments. This material is not intended as an offer or solicitation for the purchase or sale of any financial instruments.