Bond prices continued to rally this week and the yield curve flattened further as a slew of negative housing data kept the market squarely focused on the risk of recession while plunging commodity prices pushed inflation fears to the background. For the week, the 10yr & 2yr yield both fell 13bp to 2.78% and 2.98% respectively, while the 1mo yield rose 29bp to 2.07%. The 10yr-2yr spread is now -20bp, the most negative since 2000 and a clear indication the market expects a recession has either already started or is on the way.
On the housing front, it was another bad week. Housing Starts fell 2.0%, Existing Home Sales fell 5.4%, Mortgage Applications fell another 6.3% and the NAHB Housing Market Index plunged to 55, the lowest level since May 2020. House prices have not yet corrected with the median price of an existing home sale jumping 13% from a year ago to a record $416,000. Prices remain supported by historically low inventories, but that is beginning to change with monthly supply of homes for sale rising to 3.0 months, nearly double the 1.6 month record low set in January 2022.
On the inflation front, commodity prices continue to plunge with gasoline prices down 60 cents and oil prices down nearly $28 since early June. And it's not just energy prices - here are some of the biggest declines in 2022: Corn -30%, Wheat -40%, Soybeans -19%, Copper -32%, Gold -15%, Silver -30% and Lumber -53%. Falling commodity prices and fears of recession have caused market-based inflation expectations to drop sharply, with the 5-year breakeven inflation rate down to 2.56% from 3.73% in March while the Fed's 5-year forward 5-year inflation rate fell below 2% for the first time since 2020.
Next week will see a lot of economic data, but markets will be primarily focused on the Fed's July 27th rate decision and the preliminary estimate of Q2 GDP. The Atlanta Fed's GDPNow estimate of Q2 GDP is tracking at -1.6% while economists are estimating +0.4%. The FOMC is expected to hike rates another 75bp to 2.5% on Wednesday which would take the fed funds rates to the Fed's own definition of neutral. If Q2 turns out to show a second consecutive quarter of GDP contraction, which is considered by many to be the unofficial definition of a recession, that would mean the economy may be in a recession and slowing even before the Fed has hiked rates to neutral. Considering rate hikes have about a 6-month lag before effecting the economy and knowing the Fed wants to hike rates to 3.5% this year, the economy may be in for a rough 2nd half of the year.
Oil and Gasoline Prices Since January 2021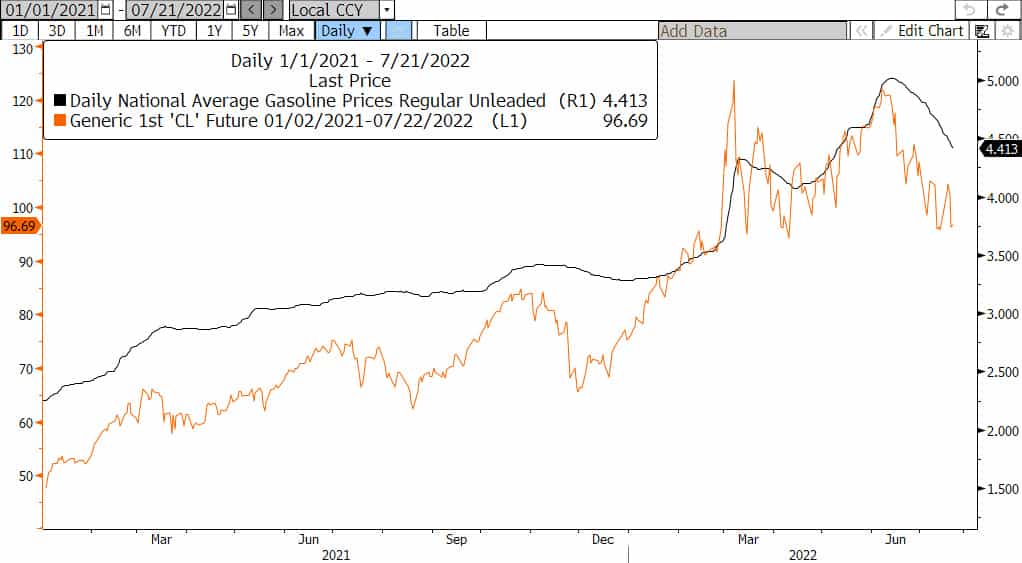 The Baker Group is one of the nation's largest independently owned securities firms specializing in investment portfolio management for community financial institutions.
Since 1979, we've helped our clients improve decision-making, manage interest rate risk, and maximize investment portfolio performance. Our proven approach of total resource integration utilizes software and products developed by Baker's Software Solutions* combined with the firm's investment experience and advice.
*The Baker Group LP is the sole authorized distributor for the products and services developed and provided by The Baker Group Software Solutions, Inc.
INTENDED FOR USE BY INSTITUTIONAL INVESTORS ONLY. Any data provided herein is for informational purposes only and is intended solely for the private use of the reader. Although information contained herein is believed to be from reliable sources, The Baker Group LP does not guarantee its completeness or accuracy. Opinions constitute our judgment and are subject to change without notice. The instruments and strategies discussed here may fluctuate in price or value and may not be suitable for all investors; any doubt should be discussed with a Baker representative. Past performance is not indicative of future results. Changes in rates may have an adverse effect on the value of investments. This material is not intended as an offer or solicitation for the purchase or sale of any financial instruments.