It's the last week in August and that means two things: football season is about to kick off, and the Federal Reserve is hosting its annual Jackson Hole Symposium. Started in 1982, the Fed event provides a stage for policymakers to announce, articulate or elaborate on monetary policy and to provide supportive commentary. The task for Chairman Powell's speech this morning was fairly clear… to convince financial markets that the central bank will stamp out the highest rates of inflation in decades without sending the economy into a death spiral.
In recent weeks Fed officials have been consistent in their story. The inflation fight is their single point of focus. The objective is to slow demand-side inflation pressures (remember, the Fed can do little to help with supply-side issues and inflation caused by geopolitics). The ultimate goal is to bring inflation back to their 2% long-term target. The idea that they will pause, stop-and-reverse, or otherwise alter course before inflation measures fall in a meaningful way is off base. Fed officials may differ in how much and how fast to tighten, but the mission is to keep squeezing until inflation moves lower. These points were all reinforced by Powell this morning.
The good news coming into the day was that we have indeed seen the first signs of potential slowing in inflation rates. Both CPI and PCE inflation (the Fed's preferred measure) have been weaker in the last month, Specifically, CPI inflation now sits at 8.5% YOY which is .6% below the June level, and PCE is 6.3% which is half a percent lower than the prior month. Notably, core PCE inflation (which strips out volatile food and energy components) has now seen five consecutive months below its February peak. Maybe the most visible sign of good news on the inflation front is gasoline prices which have fallen remarkably since the midsummer peak. Still, as good as all of this news may seem in the moment, it is far short of what's ultimately needed for the Fed to be confident that inflation is moving lower in a meaningful way. We're still at historically high rates of inflation… the job is far from finished. This is a message the Fed is determined to reinforce.
Powell's speech emphasized that restrictive policy will remain in place for some time, noting that "The historical record cautions strongly against prematurely loosening policy". Truer words were never spoken. He also acknowledged that success in the fight against inflation will bring some pain for households and businesses, requiring a "sustained" period of below-trend growth and a weaker labor market. These comments come on the heels of revised GDP data which showed that the contraction of output in Q2 was less than previously reported. Good news I suppose, but it doesn't change the fact that we've seen two consecutive quarters of negative growth… long-considered a basic definition of recession.
The Fed has received loads of justified criticism for failing to anticipate the current inflation problem. Now they seem determined to repair the blow to their reputation by staying on task with aggressive policy and slaying the inflation dragon no matter what.
US Daily Average Gasoline Price: 2021 - Today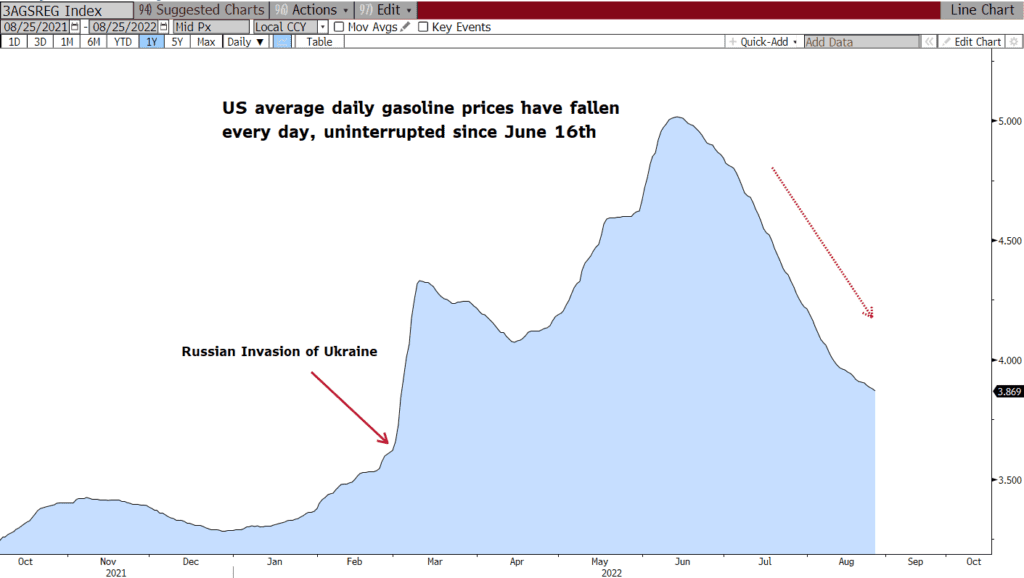 The Baker Group is one of the nation's largest independently owned securities firms specializing in investment portfolio management for community financial institutions.
Since 1979, we've helped our clients improve decision-making, manage interest rate risk, and maximize investment portfolio performance. Our proven approach of total resource integration utilizes software and products developed by Baker's Software Solutions* combined with the firm's investment experience and advice.
*The Baker Group LP is the sole authorized distributor for the products and services developed and provided by The Baker Group Software Solutions, Inc.
INTENDED FOR USE BY INSTITUTIONAL INVESTORS ONLY. Any data provided herein is for informational purposes only and is intended solely for the private use of the reader. Although information contained herein is believed to be from reliable sources, The Baker Group LP does not guarantee its completeness or accuracy. Opinions constitute our judgment and are subject to change without notice. The instruments and strategies discussed here may fluctuate in price or value and may not be suitable for all investors; any doubt should be discussed with a Baker representative. Past performance is not indicative of future results. Changes in rates may have an adverse effect on the value of investments. This material is not intended as an offer or solicitation for the purchase or sale of any financial instruments.